Make learning fun for you and your dog with reward-based, force-free positive training methods
Dawn Kairns Dog Training provides private learning for puppies and adult dogs and their people. My mission as a dog trainer is to help you and your best friend build a strong, lasting bond because I want you to experience the joy of that special relationship with your dog that good training facilitates. In addition, I want to keep dogs in their homes and out of shelters. As a result of my lifelong love of dogs, working in the training and behavior modification program at Boulder Humane Society, and raising/training a Freedom Service Dogs pup, Dawn Kairns Dog Training was born.
Does Your Dog or Puppy:
Have poor manners at home or in public?
Jump on visitors in your home or in public?
Pull forward on the leash while walking?
Bark too much?
Become overly excited?
Have accidents in your house?
Destroy things in your home?
Come reliably when you call?
I can help you with: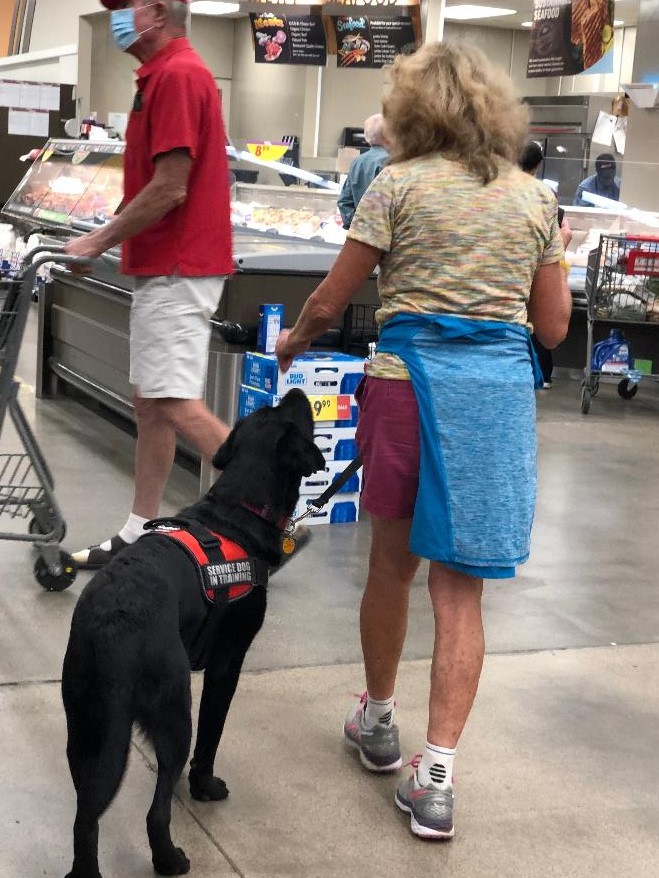 New puppy in your home
Crate Training
House Training
Puppy play biting
Basic Obedience & Manners (sit, lay down, wait, stay, leave it, come, heel)
Loose Leash Walking
Resource Guarding
Body Handling
Socialization
Body Language
Relaxation Training
Leash Aggression
Dawn with Chili, a service-dog-in-training
Dawn is a Certified Professional Dog Trainer (CPDT-KA) and serves clients in and near the Boulder area, as well as remotely via phone or zoom. Dawn is a member of the Association of Professional Dog Trainers (APDT) and the author of Maggie the Dog Who Changed My Life
Client Testimonials
"Dawn is wonderful! Dawn helped us with our 4 yo rescue, Rosie. Rosie has leash reactivity and needed help with loose leash walking. We've had several other trainers prior to Dawn, who were not helpful. Dawn teaches with positive reinforcement, and we've come so much further in 5 weeks, then with other trainers over 6 months. Dawn obviously loves dogs, and loves what she does. Dawn's very responsive through e-mail, and she checks in to see how our practices are going in between sessions. I know I'm gushing, but I highly recommend her, and only wish I'd find her 3 years ago!" — Helen Brekke
"Dawn has exceeded our expectations in every way while training our puppy. Her focus on positive reinforcement and understanding our dog's language had been eye opening, and more than we could have ever wished for. Dawn has been so patient with us and has given us practical tools to use since day one. We are so thankful that we decided to work with Dawn. We saw huge improvement right away!" — Kyle Baudour
"Dawn helped us with a puppy who had an insatiable need to eat everything and I do mean everything.  She was calm, confident, knowledgeable and above all patient with us as we learned how to manage our puppy problems.  It took some work on our part but we had great guidance from Dawn.  She has a whole bag of tricks to help with a few other minor challenges we were having.  Our puppy is 6 months old now and is well on her way to becoming a well behaved dog thanks to Dawn's help." — Adam G.
"What an amazing puppy trainer! Dawn Kairns worked with my new pup, Toby and helped so much.  She has so much patience and such a calm demeanor with animals.  Dawn was always available to answer questions I had and give advise as Toby grew and developed into a well behaved pet.  No matter what issue, from biting to jumping to nibbling on house plants, Dawn had lots of ideas and things to try.  I would highly recommend her as a trainer for your new puppy!" — Maureen Cochran
"Dawn was a real blessing for me and my dog, Lili. She has lots of ideas and taught me things I would have never thought of myself. And I'm happy she left us with some written instructions. She teaches with loving kindness, and my puppy and I learned a lot from her that is helping to make her a welcomed dog wherever she goes." — Evie Cohen
"Dawn is patient and knowledgeable. Our dog loves her. Her suggestions are easy to understand and she is very pleasant to work with. Highly recommend." — Sue Baer